How to Choose the Best WordPress Maintenance Agency for Your Business [Complete Step by Step Guide]
WordPress started in 2003 as a blogging platform and made a phenomenal transition to an excellent CMS that now powers 43% of all websites, according to the latest statistics provided by W3Techs. Check here what you can build with WordPress.
But like all software, things occasionally go wrong and need fixing. This and a couple of other reasons you will find out today should make you consider hiring a WordPress maintenance agency.
Google blacklists 70,000 websites due to security issues every week. According to a report by Sucuri, 61% of infected WordPress websites were out-of-date and not patched to reported vulnerabilities.
If you are serious about running a great business online, it's mandatory to keep your website up-to-date and secure. Also, you should focus on running your business without the headache of taking care of minor website edits, speed optimization, doing daily backups, updating plugins and themes, and the list may continue.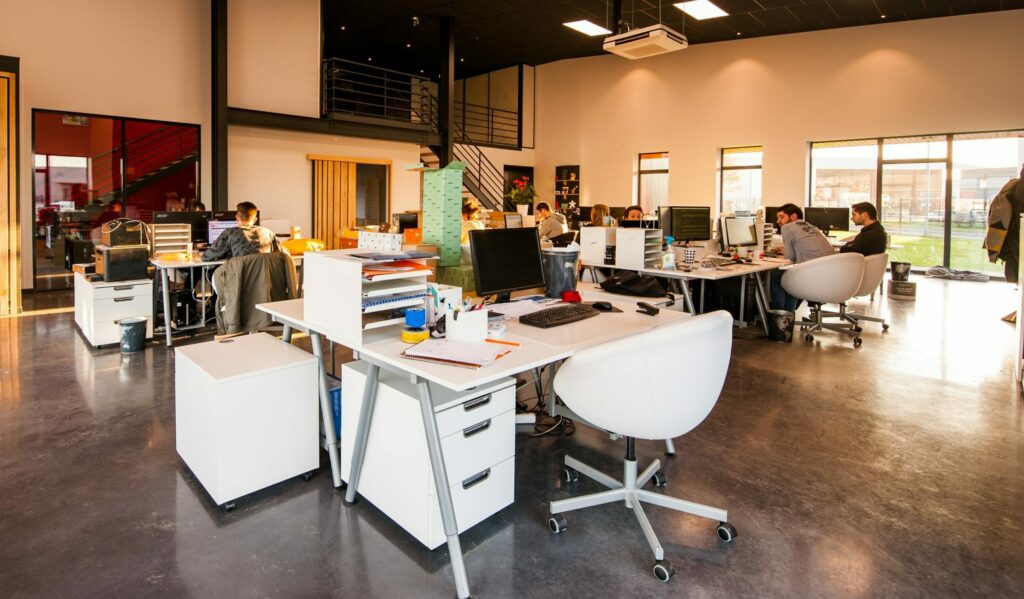 So, I hope investing in a WordPress maintenance plan for your website makes sense.
In this guide, we will cover the following:
In a hurry? Please fill out the following form, so we can send you the PDF guide right in your inbox:
Let's break down the different fields you'll need to square away to start working with a WordPress maintenance agency on the right foot.
1. Benefits of Working with a WordPress Maintenance Agency
Read on to find out the benefits of working with a WordPress maintenance agency and see what you may have missed.
1.1 Better Security
According to the 2021 iThemes Security Weekly WordPress Vulnerability Reports, powered by WPScan, on average, around 30,000 websites are getting hacked daily. Also, to date, WP Scan identified 1,628 disclosed vulnerabilities. 97.1% are attributed to plugins, 2.4% to themes, and only 0.05% to WordPress core files.
This is how a hacked WordPress website can harm your business:
Your website can be marked as "unsafe" by Google. Your organic rankings and traffic will drop like a rock, taking weeks or even months to be restored.
A hacked website can spread malware to your visitors, damaging your business's reputation.
In case of a data breach, all your users' sensitive details—like passwords, financial information, and private information—can be exposed or sold on the black market. This will also hurt your reputation and can even bring lawsuits.
The hackers can send phishing emails from your hosting account. This will result in complaints from financial institutions and authorities, so your website may be closed and your hosting account terminated.
I hope I have clarified that your website's security is not something you can take lightly.
A WordPress maintenance service takes a huge burden off of you in this regard. They'll have a security strategy that helps protect against some of the most common vulnerabilities hackers usually exploit. The methods can prevent unwanted logins to your WordPress installation and related databases, complete regular malware scans, and limit suspicious requests to your website.
Further readings: 10-Step Checklist To Ensure Your WordPress Website Is Secure
1.2 Better Update Management
Like an app you use on your computer, websites are powered by software that needs to be kept updated. More features, better performance, and patching vulnerabilities are all part of maintaining your website.
A WordPress maintenance service will take care of the updates, ensuring that everything works as expected. Updates are regularly applied, so your website continuously operates at peak performance.
Most maintenance services have update routines in place so that, should your website be patched with a bad update, they can simply roll it back to the state it was in before the patch.
1.3 Better Performance
Studies have consistently shown that fast page speed will result in a better conversion rate. According to a survey by Skilled.co, 47% of customers expect a webpage to load in 2 seconds or less. Studies by AI healthcare software company mPulse Mobile found that:
Pages that loaded in 2.4 seconds had a 1.9% conversion rate.
At 3.3 seconds, the conversion rate was 1.5%.
Measured at 4.2 seconds, the conversion rate was less than 1%.
At 5.7+ seconds, the conversion rate was 0.6%.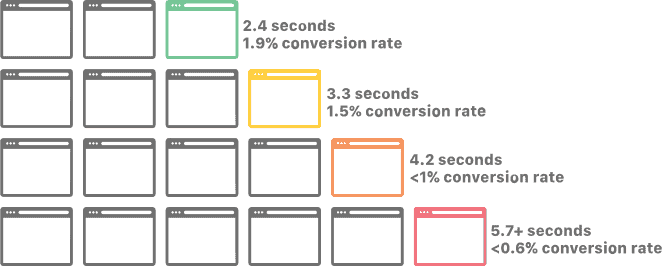 Source: Cloudflare Blog
So for only 2.4 seconds of waiting, the conversion rate is only one-third of what it can be with a speed-optimized website. If this doesn't convince you enough, then consider the fact that a big part of Google's ranking algorithm is calculated based on how fast your website loads. For this reason, it's worth ensuring your website's loading speed and performance are at their best.
A WordPress maintenance agency should at least take care of the website speed. This can be done by installing a caching system, optimizing the scripts and images, and utilizing a content delivery network to ensure your site is always functioning at lightning speed.
1.4 Quick Website Changes
You will probably need small website changes from time to time. These changes can include adding a new page, editing an existing one, changing a phone number on the contact page, or replacing a few images. Besides these small tasks, you may also need to add new functionalities or fix the broken ones.
A maintenance agency can now take care of most of the technical responsibilities of maintaining your website. This leaves you to worry about what's genuinely essential: running your business to its full potential.
1.5 A Team of Experts at Your Disposal
With a maintenance service, the support team is also the technical team. They should be familiar with your setup because that's their core business. And with a provider that specializes in WordPress, your setup will be finely tuned and familiar.
If you experience an issue, the experts at your disposal have likely seen it before and know the necessary steps to get things running as expected.
Further reading(s):
1.6 Better ROI Than In-House Employees
You will have to hire someone if you don't have employees who can oversee WordPress development and maintenance. Now, considering the website complexity and the level of work that needs to be done, the budget for that can vary. You'll also need to consider their salary, benefits, and other employee expenses like a computer, tools, training materials, etc.
On the other hand, If you hire a WordPress maintenance agency, you get an experienced professional working for you right off the bat. The agency will quickly make any required changes while ensuring your website runs smoothly.
1.7 Easy Scalability
When you hire a maintenance agency, you have a team of expert developers at your disposal. Depending on the specific needs of your business, you can easily upgrade to a higher maintenance plan or simply downgrade if that's what your business needs. When you pursue the in-house development route, your resources will always be limited by the number of people you hire.
1.8 Monthly Reporting and Insight Data
Running an online business relies heavily on a lot of data when making informed decisions and running your business successfully to meet your financial objectives.
Here are just a few reports you need to consider:
Google Analytics reports on traffic, conversions, eCommerce goals,
Website speed and uptime,
Google Search Console data on SEO metrics,
PPC conversion data from both Google Ads and Facebook,
and the list goes on and on.
If you choose to work with a WordPress maintenance agency, they'll take care of getting these reports to you and even compile them into an actionable monthly report of only a couple of pages.
Further reading: Seven Top WordPress Trends You Should Watch In 2022
1.9 Long-Term Cost Savings
By keeping your website well maintained and updated, there's less of a chance of a hack or anything bad. Like your health, preventing disease rather than treating it is better and cheaper.
A monthly sum is well worth ensuring your site is kept secure and working as it should, versus the costs associated with downtimes, data breaches, fines, lawsuits, or even going out of business.
In this guide chapter, you found the benefits of working with a WordPress maintenance agency. These are better security, update management, enhanced performance, quick website changes, having a team of experts at your disposal, better ROI than an in-house team, easy scalability, monthly reporting, and long-term maintenance cost savings.
Further readings:
Next in our guide, I will show you what exactly should be included in your WordPress maintenance package, the clear signs your current maintenance agency is not doing its best, and how to employ the perfect agency for your business needs.
2. What Should Be Included in Your Maintenance Package?
We've found that different service providers offer different levels of service. Before hiring a website maintenance agency, visit their website and look for a clear outline of what's included in their plan.
Here are, in my opinion, the must-have services that a maintenance package should include:
2.1 WordPress Core, Plugins & Theme Updates
The WordPress team releases major updates to the core of WordPress around twice a year, while minor updates are rolled out when needed, especially to fix bugs or security issues.
On top of that, depending on how many plugins you are using, you will also have to do a couple more daily updates to ensure your website is safe and continues to work as expected.
Further reading(s):
2.2 Backups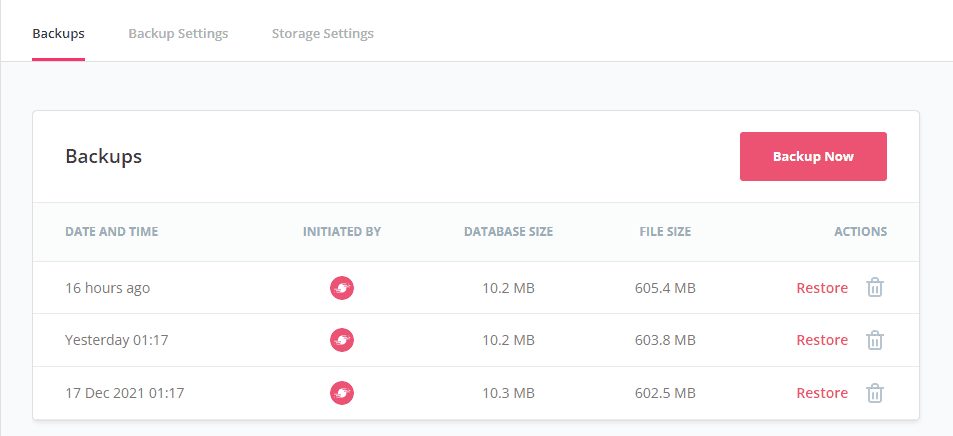 I cannot stress enough the importance of keeping backups of your data on-site and remotely. These backups have saved me thousands of dollars and hundreds of hours of work several times in my career.
By creating backups regularly for your website, you will stay safe in case of a website hack, a content update error done by one of your colleagues, data breaches, or simply a server crash that cannot be recovered.
2.3 Website Security
Monitoring the security of your website, customer data, and other associated sensitive digital assets is mandatory if you want your business to stay out of trouble. That's why your agency should include in their maintenance package both proactive and reactive security measures and full website recovery in case of a breach or server crash.
2.4 Server and Uptime Monitoring
An uptime monitoring service will quickly give you the heads-up when your website is experiencing technical difficulties. It is not hard to guess that having a website offline for a couple of hours or even days can cost you a lot in revenue, rankings, and, most importantly, revenue.
Reliable maintenance providers monitor your uptime and downtime using powerful tools and work on getting your site back up before you or your clients see a problem.
Further reading: Best Hosting Providers When Starting Out With WordPress
2.5 Website Edits or Adding New Features
You will probably need small website changes like adding a new page, editing an existing one, changing a phone number on the contact page, or replacing a few pics. Besides these small tasks, you may also need to add new functionalities or fix the broken ones.
Make sure that your website maintenance agency can help you with those because these are most likely time-sensitive, and you won't have the time nor will to hire a web development agency just to get those done.
Further readings:
2.6 Consulting
Especially for new clients, it's essential that a maintenance agency can offer guidelines or help them understand what they need or what solution will suit them best.
Further reading: How to Choose the Best WordPress Consultant for Your Business
2.7 Reporting
Having a complete report of the activities that have been done in the previous month is mandatory.
A good website maintenance agency should at least offer you a simple monthly report that summarizes the changes done on your website, the uptime figure, and other relevant stats for you.
A quick recap: You know now the benefits of working with a WordPress maintenance agency and what you should expect to see in a quote. Your maintenance package should at least include updates of your WordPress core, plugins, and themes, backups, website security, server, and uptime monitoring, website edits, consulting time, and reporting.
Let's see some clear signs that it is time to switch your maintenance agency.
3. Clear Signs It's Time to Switch Your Maintenance Agency
When dissatisfied with your agency's performance, you should reconsider your options because having your website up and running as expected is crucial for your business.
If you see the following four signs, you should consider switching to a more reliable provider. After all, your business deserves nothing but the best.
3.1 Communication Issues
Communication is not a one-sided job. When communication issues start developing, it is a big sign that you should look closely at the matter.
Signs of poor communication between companies include:
Unproductive phone calls without any actionable steps
Your emails remain unresponded to or aren't responded to on time
Poor account management
Consecutive missed deadlines
If you identify several of these signs, try to talk with your agency and explain that communication is important for you and that you would like to see improvements in this area.
Keep in mind that most of the time, communication issues are only the tip of the iceberg, and there are problems in other areas. You may consider looking for a new agency if this does not improve.
3.2 Not Delivering the Promised Results
Often, you will come across some agencies that are big on promises but low on delivering. Some agencies promise heaven and deliver less to get many clients as fast as possible. They might be promising desired results because they want to deliver them, but the results they are generating are not enough for you to continue this partnership.
If you experience regular downtimes, the tasks you request are not fulfilled, or you don't receive reports about the work, your current agency is not doing its best for your website.
Hence, if you think about why your agency isn't delivering what it promised, you should look for a new maintenance agency.
3.3 Lack of Transparency
A good maintenance agency should build up and maintain its trust every month. Transparency is essential when you have to deal with a maintenance agency. That's because they have access to sensitive data and information and must protect them and keep everything in good shape. You trust them with the keys to your digital business.
If you are unhappy with the level of transparency you receive, you should address the issue immediately.
3.4 Lack of Reporting
Most probably, your agency is sending you an invoice and a report of work they've done the previous month. These documents should clearly outline how they fulfill the contractual commitments, what activities have been done for your account, what challenges they faced, recommendations, etc.
Check the reports and the invoices for the last couple of months.
Do the numbers add up and make sense regarding the initial agreement?
Also, do you see and understand the return on your investment?
The point is that everything should be super clear so you can see exactly what you are paying for.
Again, a quick recap: In this chapter, you found the four main signs that the relationship with your maintenance agency may not work as it should, and it may be time to consider switching to a new one. These signs are communication issues, not delivering the promised results, lack of transparency, and lack of reporting.
Further reading: How to overcome 2 of the hardest moments in working with a WordPress agency and get better results
4. How to Fire Your Maintenance Agency
Before going further, I must warn you that switching maintenance agencies may be quite expensive, not to mention the time it takes to research, select, onboard, and transition to a new provider.
But if you found the signs I've outlined in the previous section of this guide and the relationship with your current agency isn't working out, here's what you need to think through regarding the timing and steps necessary before, during, and after you fire your maintenance agency.
4.1 Communicate
Communication is essential for an excellent business relationship. However, communication can often decline when there is friction in a relationship. Unfortunately, this is precisely when communication needs to be ramped up.
The most crucial time for us to communicate the most heavily: is when the relationship begins to dissolve. The good news is that increasing communication can either solve the problem or validate your desire to part ways.
Taking your time and ensuring you are fully informed before deciding is essential. Discuss your main issue(s) with the agency. You can bring it up respectfully to the agency before you decide to fire them. You might not understand all the circumstances. If you don't let them know you are frustrated, they won't understand.
4.2 Analyze the Current Agreement
If communicating your concerns still hasn't resolved the issue, the next step is to determine what would be required to allow you to exit the partnership legally.
Have your legal team review the contract. Then, take the necessary steps to end the relationship and comply with the terms of the agreement.
Take the time to review your contract during the communication stage to ensure you are legally ready to leave the agency.
4.3 Begin the Research
It is a bright idea to ensure you have the next maintenance agency lined up before letting go of your current one. This will ensure that the transition to your new provider will be smooth, and you will not experience downtimes, security issues, or revenue drops.
Start researching and contacting other agencies to fulfill your needs or match your expectations. Before you fire your current agency, make sure the new agency is ready to go.
4.4 Leave on a Positive Note
It is time to inform your current agency that you are leaving the relationship. It is tempting to get emotional during communication, but it is vital that you keep your cool and not burn any bridges. Remain professional, and submit a request to exit the relationship in writing with an end date that corresponds with the contract requirements.
It is essential to end the access of the old agency to your website accounts, files, databases, etc., after they have finished managing the account. You should avoid giving access to your account to any disgruntled former account managers.
In the chapter you've just finished reading, I've shown you how you can part ways with your current maintenance agency in four easy-to-follow steps. It's important to be fully informed about the decision, analyze your current agreement with your current agency, do research to find a new one, and, in the end, leave on a positive note.
5. How to Choose the Perfect Maintenance Agency for You
I would like to inform you from the beginning that choosing the perfect maintenance agency for your business is not an easy peasy task. It requires time, patience, and a good plan. However, you will have a trusted partner in your business journey when you find it. This partner will take care of your website, leaving you time for other important matters.
5.1 Define Your Goals
The first step is to decide what you want a maintenance agency for. This shouldn't be something challenging to do.
Surprisingly, many businesses don't do this well. Some don't know exactly why they want an agency or how their desired result will be achieved. Then they end up getting frustrated when things don't go their way.
If your goals are simple, explaining what you want from a maintenance agency will be easier.
5.2 Value Matters; Price, Not as Much as You Think
One of the most exhausting phases in selecting a WordPress maintenance agency is deciding how much you want to spend on these tasks.
But remember that you want an agency that adds value to your business. You might have a limited budget, of course, but try to think of the value your business might get should you choose a top digital marketing agency.
5.3 Do Your Homework
If you have a few shortlisted companies you want to move forward with, you should get all the information about them.
You can do that by checking their websites, reading reviews about them, and browsing through their social media accounts.
Also, you should schedule meetings with agency representatives and ask them relevant questions.
We've written an article about the top 10 questions you should ask your future maintenance agency, or you may regret it later.
Are they active?
Do they have testimonials from people who have used their services?
They're in the digital business world, so they should market themselves in the best way possible.
5.4 Start Small
Once you have decided on an agency, give them a minor assignment so you can evaluate their performance and see whether it suits your overall needs or not.
For example, you can ask them to audit your website or make a couple of minor changes. An audit will provide insights into your website's performance and what can be improved. It would also show you what the agency has to offer.
5.5 Ask Them to Meet You
Before you finally choose a maintenance agency, it is recommended that you meet them physically or digitally. This meeting will let you know a lot of things about them, including how they operate, how big their organization is, and whether you will be able to work with them or not.
This is a crucial step because if you don't trust the people you would be working with, there's no point in choosing them.
In the fifth chapter of our guide, I've outlined five steps I recommend you to take for choosing the perfect maintenance agency for your business. Define your goals, remember that value is more important than the cost, do your research, start with a small project, and meet them to ensure they are up to your standards.
6. How to Improve the Relationship with Your Agency
Hiring a new maintenance agency can be one of your most challenging investments. You need to review their expertise and perceived performance and also have to account for culture fit, time investment, fee structure, and more. Also, look at any new relationship as a true partnership. You need to make sure you're a good fit for each other to ensure a fruitful relationship.
But what can clients do to improve this relationship?
6.1 Set Up Clear Objectives and Key Results
To achieve the desired results, you and your maintenance agency should know your goals and establish a good way to measure and track the results. I recommend using the objectives and key results goal-setting framework and writing clear website specifications. More details on how to set up and track objectives can be found here.
6.2 Understand the Agency's Bandwidth
If you want the same person to work on your business five days a week, you should hire an employee.
What's great about your maintenance agency contact is that their staff continuously learns from cross-industry and cross-client experiences. As a client, you profit from this knowledge and experience. But it also means you shouldn't expect to have your every desire fulfilled within minutes.
6.3 Share All the Necessary Data and Information
As long as you trust your maintenance agency, if you decide to work with them, you should trust them and share all the necessary information with them so they can have an overview of the environment they have to keep in good condition.
6.4 Be Supportive
If I had to rephrase this advice, it would be: Help them so they can help you. Have a supportive relationship with your maintenance agency; otherwise, things will go south soon.
But if you explain what you need, offer them what they need, and be sympathetic, it will make them return the behavior. We are people, after all. If you treat the people from the agency nicely, you will become one of their favorite customers, and they will do their best to make you happy.
In this final chapter of our guide, you learned how to improve your relationship with your maintenance agency. To quickly recap, you should set clear objectives from the beginning, understand the agency's bandwidth, share the necessary data, and be supportive.
Further reading: Your WordPress Developers Aren't Like Socks — You Don't Need To Change Them Everyday
Conclusion
First of all, I would like to thank you for taking the time to read our guide.
Secondly, let's do a recap of the things you learned:
Now you know the benefits of working with a WordPress maintenance agency: better security, update management and performance, small website changes, having a team of experts at your disposal, easy scalability, and professional reporting.
We've outlined what you should expect to see included in your maintenance package: updates, backups, security, uptime monitoring, website edits, consulting, and reporting.
The clear signs that your current agency is not doing its best and you may consider switching agencies: communication problems, not delivering the promised results, lack of transparency, and lack of reporting.
How to split ways with your current agency into good terms: communicate properly, analyze the current agreement, begin the research for a new agency, and of course, leave on a positive note.
How to choose the perfect maintenance agency for you: define your goals, understand that value matters more than price, do your homework, start small, and set up a meeting.
And finally, several tips to improve the relationship with your agency: clear briefings and goals, understand the agency's bandwidth, share all the data that can help the agency, and be supportive.
I hope our advice will help you have a better relationship with your agency and fulfill all your objectives.
Hire Expert WordPress Developers
Looking to customize or develop a new website?