Top 10 Reasons to Use a WordPress Maintenance Service
In the following article, you will learn the top 10 reasons you should use a WordPress Maintenance Service for your website if you are serious about your online business.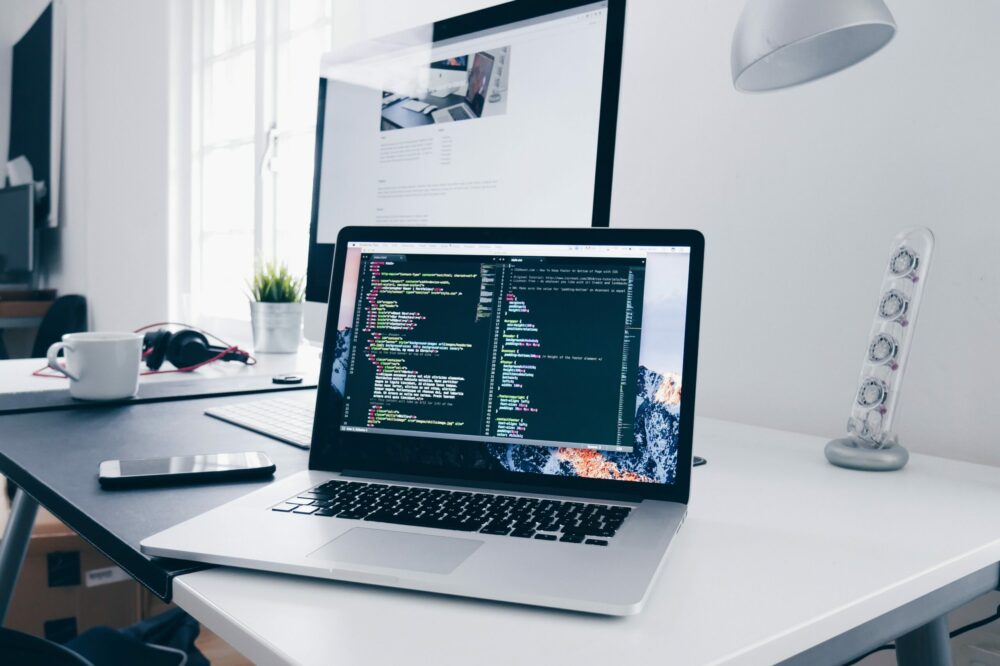 WordPress started as a blogging platform and did a phenomenal transition to an excellent CMS, which now, according to W3Techs, powers 43% of all online websites globally. Over 65% of all websites are built using a content management system (CMS).
In the chart below, you can see the percentage of websites using various versions of WordPress. Version 5 is used by 91.2% of all the websites that use WordPress, while version 4 is still used by 8.3% of analyzed websites.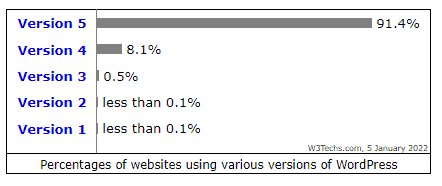 Every successful website requires some level of ongoing maintenance. It's not just a case of simply launching your site, and that's it. WordPress itself as a core system comes with its updates, aside from plugins, themes, and content.
For your website and your business, it is necessary to make sure your site stays functional and performs as best as it can. If you're in the process of designing or developing a new website, it's crucial to put in place a post-launch strategy once the site is launched to ensure that it stays up to date, secure, and fully functioning.
So here's our list of the ten reasons why you need a dependable WordPress Maintenance Service. 
1. Security
As seen above, due to its popularity, WordPress is a popular target for hackers and data thieves. WordPress is generally secure, but it's easy to miss the basics of running a site that can create security holes in your install.
According to WordFence, a popular WordPress cybersecurity company, there are almost 90,000 attacks per minute on WordPress websites. Also, the company identified to date 3,972 known WordPress vulnerabilities. Out of which, 52% are from WordPress plugins, 37% are due to core WordPress files & 11% are from WordPress Themes.
A hacked WordPress website that gets hacked can do a lot of harm to your business:
You can be marked as unsafe by Google, so your SEO rankings and traffic will drop like a rock taking weeks or even months to restore them.
Spread malware to your visitors, which will put a bad mark on your business reputation.
In case of a data breach, all your users' sensitive details like passwords and financial and private information can be exposed or sold on the black market. This will also hurt your reputation and can even bring lawsuits.
The hackers can send phishing emails from your hosting account and bring complaints from the financial institutions and authorities, so your website will be closed and your hosting account terminated.
A WordPress maintenance service has a security strategy that helps protect against some of the most common vulnerabilities that hackers exploit. These strategies can prevent unwanted logins to your WordPress website and related databases, regular malware scans, regular backups, and limit suspicious requests to your website.
2. Complete Backups
Another crucial reason for employing a WordPress maintenance service is to ensure that your website is regularly backed up.
Several reasons why you need backups of your website:
Your server or the cloud account crashes and can not be restored. Without backups, you will lose all the website files, databases, client data, etc.
You accidentally delete some pages or some database records. With a backup, you can quickly restore them.
Hackers compromise your website and infect it with malware. You can get your website back in shape by restoring it from a backup and then securing it.
Data corruption occurs, so some of your information can not be read, like transactions and user login details. By having a recent backup, you can quickly restore the data.
So, if anything happens to your website host or the website itself, it can be a lifesaver to have a recent copy of your website safe, secure, and ready to be restored. The backups should be stored in multiple locations, both locally and remote.
3. Speed Optimization
Studies have consistently shown that fast page speed will result in a better conversion rate. 47% of customers expect a webpage to load in 2 seconds or less, according to a skilled.co study.
A test conducted by AI healthcare software company mPulse Mobile found that:
Pages that loaded in 2.4 seconds had a 1.9% conversion rate
At 3.3 seconds, the conversion rate was 1.5%
In 4.2 seconds, the conversion rate was less than 1%
In 5.7+ seconds, the conversion rate was 0.6%
So for only 2.4 seconds of waiting, the conversion rate is only one-third of what can be with a speed-optimized website. If this doesn't convince you enough, consider that Google uses the website speed in its ranking algorithm for paid ads and searches.
Even a single plug-in that is not kept updated can slow down your site or even cause certain functions of your website to become unresponsive.
So it's worth it to make sure your website's loading speed and performance are at their best.
A WordPress Maintenance agency should at least take care of the website speed by installing a caching system, optimizing the scripts and images, along with a Content Delivery Network, to ensure your site is always functioning at lightning speeds.
4. Site Health Checks 
Updating the site, themes and plugins allows you to see the overall picture of your site's general health. By checking database loads, page load speed, and even within content such as broken links, spotting these and fixing potential problems that you may not have known about can help polish off the site.
A healthy website means better conversions, more sales, a better user experience, and higher SEO rankings.
Minor adjustments can have the most significant impacts. A WordPress maintenance service should run periodic tests and reports to ensure your website is healthy.
5. Uptime monitoring
An uptime monitoring service will quickly give you a heads up when your website is experiencing technical difficulties. It is not hard to guess that having a website offline for a couple of hours or even days can cost you a lot in revenue, rankings, and, most importantly, revenue.
Reliable WordPress maintenance services continue to monitor your uptime and downtime using powerful tools and work on getting your site back up before you or your clients see there's a problem.
6. A team of experts at your disposal
The support team can also be your technical team with a maintenance service. As this is their core business, they are familiar with the best WordPress maintenance practices. They can easily guide you through adding new features, optimizing the website processes, etc.
Questions you can ask your maintenance service team:
Plugin & themes recommendation for different  functionalities like backup, security, commerce, etc
Best practices about website speed optimization, security, plugin installation, etc.
General support queries
If you do experience an issue, the experts at your disposal have likely seen it before and know the exact steps necessary to get things running as expected.
7. User Experience
In such a competitive world,  you should treat your website visitors as best as possible. That's because every visitor who leaves your website for a competitor is a lost business for you.
Nobody likes a confusing site that looks broken or outdated, which can undoubtedly prevent valuable visitors from returning.
If you're running an outdated version of WordPress core under the hood, your website could get "glitchy" – causing users to think twice about your products, services, or more as your site reflects the quality of your brand.
You don't want to make your visitors frustrated just by using your website, and you may never know about these problems until decreasing traffic sends up a red flag, by which time it may be too late.
8. Small Website changes
Most WordPress website owners need small website changes from time to time, like adding a new page, editing an existing one, changing a phone number on the contact page, or replacing a few pics.
Besides these small tasks, you may need new functionalities added to your website or fix something that broke unexpectedly.
Examples of website changes tasks you can hand over to your maintenance team:
Deleting a page that is no longer required, adding a new one, or updating it
Adding a new partner logo or a new link.
Post an article on the blog
Change the logo/color/font/phone number/menu item, etc.
Add a Google Maps  on the contact us
Install or update a plugin
The technical responsibilities that go into maintaining your website can now be taken care of by a WordPress maintenance agency to ensure your website performs at its best. This leaves you to worry about what's genuinely essential: running your business to its full potential.
9. Long-Term Cost Savings
If you keep your site maintained and updated regularly, there's less chance of something significant going wrong that will cost a lot of money to make right. 
Just like about your health, it is better and cheaper to prevent a disease than treat it. A monthly sum to ensure your site is secure and working correctly, versus the possibility and cost of a complete site, rebuild in a worst-case scenario.
Having a reputable specialist company looking after all these for you (and knowing what to look for) can help you save time, money, and stress in managing your site.
Further reading: WordPress Maintenance Cost: How much You Should Pay in 2022
10. Business Reputation
Your website is a public reflection of your business identity. A poorly maintained website with many errors, broken links, dead pages, and outdated information projects an unprofessional image that will cost you sales and brand image.
A WordPress maintenance service will routinely examine the look and feel of your website and update it to match your brand.
Remember, first impressions count, and people in today's times have limited attention spans and make snap judgments about everything – your site included. Even if you have the best products or services in the world, a site that doesn't reflect that will ultimately cost you.
11. Peace Of Mind (Bonus)
All these reasons to use a WordPress maintenance company translate into a single thing:  to have the peace of mind that your website will run smoothly.
You will no longer have to worry that your website may go offline, get hacked and spread malware, or function poorly, costing you conversions and ultimate sales.
On top of that, you have a team of experts at your disposal who can give you advice on what decisions to make regarding your website.
Conclusion
So there you have them: ten reasons + bonus to use a WordPress maintenance service for your website.
Further reading(s):
What's the crucial pain point from the list that makes you consider employing a maintenance agency? We are always eager to listen to customer stories and do our best to help and guide them. Get in touch with us here.
Hire Expert WordPress Developers
Looking to customize or develop a new website?