WPRiders Joins Clutch's 2018 List of Top Web Developers in Romania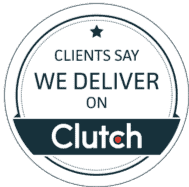 Here at WPRiders, we are a small team of web development pros who pride ourselves on the integrity of our work. This is reflected in our reasons to work with us: Guaranteed Results, High-Quality Code, Daily Communications, Business Ethics, and Premium Services. By constantly pursuing these values, we can proudly display our 500+ successfully completed WordPress projects.
All of these successful projects in our portfolio were bound to get us some attention. Clutch, a Washington, DC-based startup, recently included WPRiders on their platform as one of the best web developers in Romania. Clutch uses their industry leaders matrix to evaluate a company's ability to deliver with an emphasis on customer results and satisfaction.
Our amazing customers also provided Clutch with verified in-depth reviews about their experiences working with us. We're proud to have received a high score on Clutch so far; take a look at what was said about us:
"Thanks to WPRiders, the site now looks like a professional SaaS platform that can rival our competitors in Silicon Valley… Overall, their efforts have increased sales and helped change the U.S. market's perception of our company." – Former Head of Marketing, AI Solutions Company
"I have more free time and peace of mind now that the sites are stable and easy for visitors to use." – Founder, Book Barbarian
While we already had reviews on our website from our past clients, it gives us a little extra boost to know that there are other people that care about the quality of our work. Being featured on Clutch also enabled us to be listed as one of the best business consultants by Clutch's sister-site, The Manifest.
We specialize in WordPress because we know why it's important for businesses to have a quality website. As we push forward, it's things like this that encourage us to continually improve. We do everything for our clients and we're proud to know that our hard work is helping their businesses grow in a real way.
We'd love to hear from you too, feel free to leave a review on our Clutch profile!
Entrepreneurs usually struggle to create their online platforms when they don't have a technical partner. It's confusing and overwhelming.
We have a 5-step process that makes it easy and helps them avoid all the traps. In just 60 days, your web platform is set up and they can start making money.
Send us your project idea and get a free 5-minute review.
Want a beautiful website or plugin?