Five reasons why getting a mentor can help your business thrive
The entrepreneurial path is not an easy one. During my first 10 years as a digital entrepreneur, I ran in circles and failed to make some important leaps. The next six years were radically different because I've learned to ask for help from the right mentors.
Today, I'm mentoring and being mentored by around two to four people on various topics. I am initiating and participating in business mastermind groups, and I'm proactively looking for help. At the time of writing, I have the pleasure and honor to be mentored by Chris Lema and this is a very actionable as well as inspirational experience.
Entrepreneurship is a unique journey for each one of us that tries to create a business out of our passion. Some of us feel comfortable going on our own, while others like seeking guidance.
Whatever your situation, having someone to give you actionable advice and to encourage you to give your best can represent a real advantage when growing a business.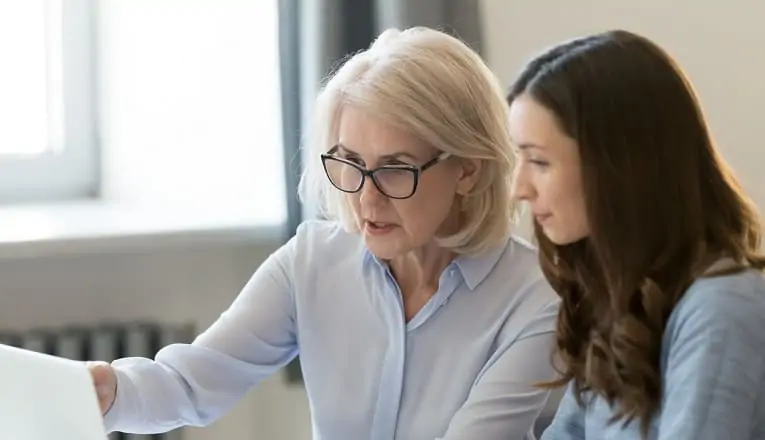 In short, having a mentor is going to help you uncover yet unseen opportunities and go beyond your limits. Imagine having someone like Mr. Miyagi (we hope you get this reference, otherwise, what have you been doing until now?) teach you how to fight and win in the business world.
More than anything, a mentor is a person that has walked both paths – to failure and to success – and can help you stay on the right one.
That's why we believe it's important to know all the benefits of having a mentor by your side before dismissing the option altogether.
When do you need a mentor?
Every time you see that situations are repeating themselves. Perhaps because you're failing in hiring the right people, you don't have enough leads, or if you're constantly out of cash. Remember, when things keep repeating themselves, that is the best time to ask for help.
Every time you are seeing another one of those things hit you, it's time to get a mentor or even several mentors.
How do you find a mentor?
When it comes to finding the right mentor, things can get complicated. Some of the best are people you already know. In other cases, LinkedIn groups can be really helpful in looking for and engaging with people you resonate with and who have more experience than you do.
Also, you can find mentors by attending networking events and getting to know people that are in the same industry and are looking for ways to grow their businesses. Lastly, you can pay a mentor by going to clarity.fm.
How can a mentor help you?
As an entrepreneur, the most essential element for success is learning.
Keeping a step ahead by gathering the latest knowledge in your industry is one of the first rules for survival in the business world.
Having a mentor is going to enhance this process. They'll be there to guide you and offer you advice on business matters you have little experience in.
One thing must be highlighted here: there's no place for pride or fear when asking for guidance. That's not what learning is about.
But what is the real value of finding your mentor? Here are five main advantages that having a mentor can bring you.
1. A mentor will bring out your full potential
Pushing yourself beyond your limits can be extremely difficult and even terrifying. However, if you don't get out of your comfort zone and take some risks, your opportunities for learning and growth are limited.
Your mentor is the one who takes the time to know you and helps you explore your true potential. Thus, they will encourage you to take on challenges you've been too intimidated to face on your own. They have been where you are now and know how important it is to not miss any opportunities out of fear.
2. A mentor will open up new perspectives
How many times have you felt stuck in a situation and nothing seemed to work until someone came and changed the way you see things?
That's when a mentor can help you shift your focus. Seeing your business from different angles helps you become more aware of your strong and weak points and come up with solutions you haven't thought about before.
We know it's easy to think that your point of view is the right one. However, we recommend you keep an open mind, admit that you might be wrong, and consider the situation from other angles by enlisting the experience of those around you.
As Einstein put it "no problem can be solved from the same level of consciousness that created it". A mentor can be the next level of consciousness that helps you tackle the problem you are having.
3. A mentor will be there for you when you fail
Failure is part of the entrepreneurial journey, everyone knows that. Nonetheless, experiencing failure is never as easy as we hope it will be.
Just imagine what would have happened if Steve Jobs stopped trying to bring his vision to life after he was fired from Apple?
Just like many entrepreneurs who have gone through hard times, he too thought it wise to have the guidance of a mentor, in his case Bill Campbell.
Remember, most businesses go through a succession of failures until they succeed to create a high-quality product or service that customers love. There's only one thing you can do, just as Samuel Beckett said: "Try again. Fail again. Fail better."
4. A mentor will provide you with unique, real-life knowledge
A great mentor will share their experiences – the good and the bad – the lessons that they had to learn in order to achieve their goals. You won't find this kind of knowledge in any textbooks or on Google.
Moreover, your mentor will help you avoid making the same mistakes that they did. As we all know, it's hard to level up when you're an entrepreneur; having a mentor's knowledge at your disposal is like having a secret power-up.
Working on your own is like driving your car at night with the low beam, you can only see so far. The mentor will turn your high beam on so you can see farther and drive better.
5. A mentor will introduce you to a learning community
Mentors can do much more than just share their experience with you, they can introduce you to people that inspire them, that help them grow, and even potential customers.
There's nothing more valuable for an entrepreneur at the start of their journey than connections. You never know how much a mentor can help you simply by introducing you to someone in their network.
One simple discussion can lead to a partnership or convince someone to invest in your project. Moreover, bringing people together like this strengthens the entire business community
How we can help you
We wouldn't really call ourselves mentors. But we pride ourselves on helping entrepreneurs avoid all the usual traps and launch their online business successfully (you can read more about our five-step agile WordPress development process).
We fully know the challenges that come with starting a business and trying everything to grow it. We've been there. That's why we want to use what knowledge we have accumulated during the years to help YOU.
Don't hesitate to ask for help if you're struggling to transform your idea into a fully-functional online platform. It's time to level up! 💪
---
Article originally published on Enterprise Nation's blog.
Hire Expert WordPress Developers
Looking to customize or develop a new website?